2021 RAM 1500 TRX in Summerside, Prince Edward Island
2021 RAM 1500 TRX at Summerside Chrysler
The pickup truck segments have taken a giant leap forward in not only capabilities but also power and luxury. Trucks have become one of the most popular vehicles on Canadian roads with great models from Ford, GM, Chevrolet, and Toyota. However, only one truck has been crowned by Motor Trend three years running. The 2021 RAM 1500 is one of the most versatile and exciting trucks in the segment. With features that automotive consumers from New Glasgow, Montague, Brae, and Prince Edward Island's surrounding areas have come to expect from this legendary truck brand. For 2021 RAM has introduced a truck that is like nothing else ever offered. An extremely high-performance monster that will not only blow the doors off any truck in the segment but many sports cars as well. The 2021 RAM 1500 TRX is the ultimate truck for the 21st century, with performance driving and features that the competition cannot match. At Summerside Chrysler, we are proud to offer the high-performance 2021 1500 TRX because RAM just made the pickup truck segment so much more interesting. Please continue reading to learn more about this amazing truck.
Supercharged V-8
The RAM features unique bulging fenders that hide a very exhilarating powerplant in-between. The heart of the RAM is a Hellcat inspired 6.2-litre Hemi V-8. This insane engine produces 702 horsepower and 650 lb-ft of torque that is sent to all four wheels through an eight-speed automatic transmission. During testing, the TRX was able to achieve a 3.7-sec sprint to 100 km/h, when compared to other vehicles, it is in hypercar territory. The TRX was able to cover the quarter-mile in just 12.3 secs at almost 178 km/h. These numbers would never be associated with a truck, but here we are; the 2021 RAM 1500 TRX is a truck like no other, and it's not surprising that many third party automotive publications think so as well.
2021 RAM 1500 TRX Interior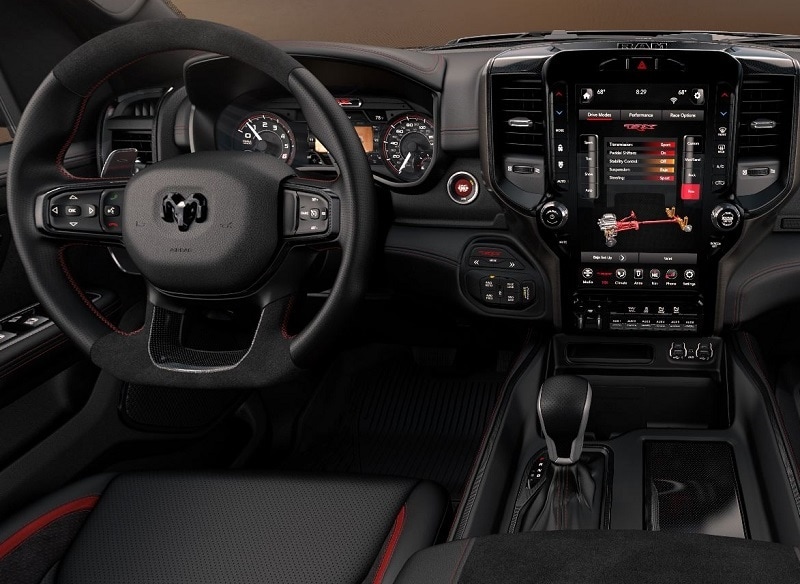 RAM has redefined what the interior of a truck should offer. Its latest generation of half-ton pickup trucks delivers rich-looking materials and next-generation insulation from exterior noises. The level of luxury inside the TRX is not something you would expect; however, it has caused truck consumers to think twice. Their expectations have reached new levels because of the bar that RAM has set, leaving all other trucks in the dust. You will find leather-covered surfaces and a dab of microsuede and carbon-fibre accents. Step into the driver's seat, and you will find a flat-bottom steering wheel with prominent paddle shifters. A 12.0-inch touchscreen infotainment system that is vertically mounted. It features Apple CarPlay, Android Auto, built-in navigation, and SiriusXM satellite radio. A 900-watt, 19 speaker Harman/Kardon sound system will create an audio experience that will be hard to match.
2021 RAM 1500 TRX Exterior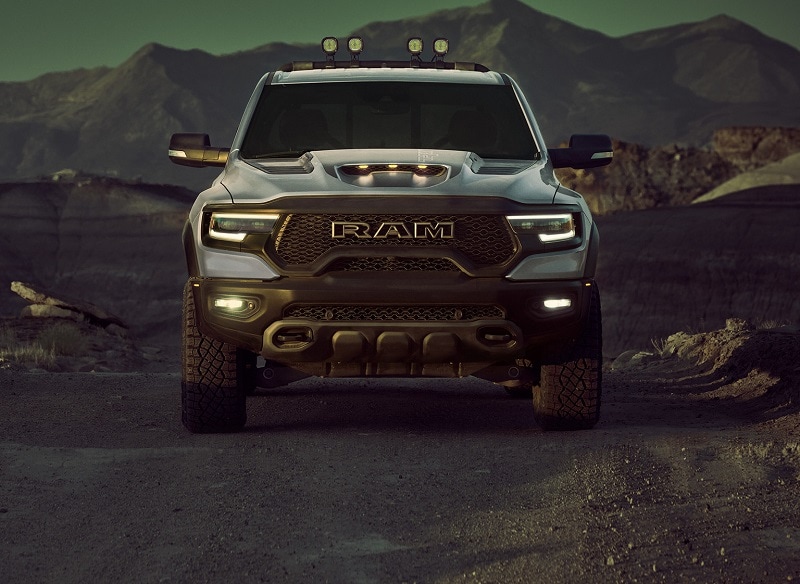 The 2021 RAM 1500 TRX clearly has the Ford F-150 Raptor in its sights, and until Ford steps up its game, the RAM rules in all categories. The TRX is an impressive and intimidating machine with a body that is 8 inches wider than a regular RAM and exterior design cues that definitely set it apart. With a stronger frame, an even more sophisticated suspension, and other advanced characteristics like a more aggressive design language, larger fender flairs, and just an overall forceful appearance, the 2021 TRX is ready to take on any kind of road. You will find larger off-roading tires that are able to cut through any type of surface, giving you ultimate control anywhere you choose to go.
Motor Trend Truck of the Year
Motor Trend awards a truck and car as its Truck and Car of the year. As the 2021 MotorTrend's Truck of the Year, the RAM has received the award three years running, with the third award going to the 2021 RAM TRX 1500. As Motor Trend says, "It is a game-changer, both on- and off-road: a truck equally capable towing and hauling as it is ripping donuts in a field or whipping sports cars in drag races. The TRX is not just the 2021 MotorTrend Truck of the Year-the unprecedented third consecutive time Ram has won but the new benchmark that all super trucks must beat." High praise for a vehicle in its first generation. Please contact us for more information.
2021 RAM 1500 TRX Inventory in Summerside, Prince Edward Island