2021 Jeep Compass In Summerside, Prince Edward Island
2021 Jeep Compass For Sale in Summerside, Prince Edward Island
If a versatile Jeep is what you want for your next vehicle, consider the Jeep Compass. The Compass is a small, compact, and sporty SUV loaded with the creature comforts and amenities you need for daily driving. Still, it's also equipped with a sporty drivetrain and a durable exterior to handle your backroad and off-road adventures just as easily. In classic Jeep fashion, there are some notable updates in this year's Jeep Compass refresh, including an elegant exterior and some upgraded technology features. The Compass also retains characteristic elements reminiscent of the brand as a whole, including its signature seven-slot grille. Some changes apply to specific trims, including new granite crystal wheels on the Latitude trim.
2021 Jeep Compass Drivetrain & Capability
The 2021 Jeep Compass is equipped with a four-cylinder engine that gives it plenty of power and pickup. The Jeep has several drivetrains that you can choose from, with the base Sport trim having a front-wheel-drive. The rest of the trims have a four-wheel-drive drivetrain for superior performance and handling over uneven surfaces or when you're dealing with adverse weather conditions. The Jeep Compass has multiple drive modes, including Mud, Sand, and Snow, to help you get through the elements more efficiently, safely, and with greater confidence. If you want more details on the Jeep Compass specifications for 2021, don't hesitate to ask our expert staff.
2021 Jeep Compass Safety Features
The Jeep Compass has a wide range of standard and advanced safety features. Overall, the Jeep earns four stars in its safety crash test rating from the National Highway Traffic Safety Administration (NHTSA). The Compass can be configured with various safety components and driver-assist technologies, including adaptive cruise control and automatic emergency braking.
2021 Jeep Compass Interior Features
The Jeep Compass offers a pleasant amount of space for people and all of the gear you need to bring along on adventures. In total, the Jeep can hold up to 17 suitcases in its trunk. There is room for five passengers in the Jeep. Even five adults can spread out comfortably across two rows. Cloth upholstery is the standard seating material for the Jeep Compass, but the higher-end trims get an upgrade to leather seating material instead. The Jeep Compass gets some impressive tech features this year, too. For infotainment and connectivity, the Jeep stands out in its class with its famed Uconnect system that provides instant and convenient access to your favourite apps and amenities. The Jeep Compass also has a USB charging port and a separate auxiliary input to ensure optimal connectivity.
2021 Jeep Compass Interior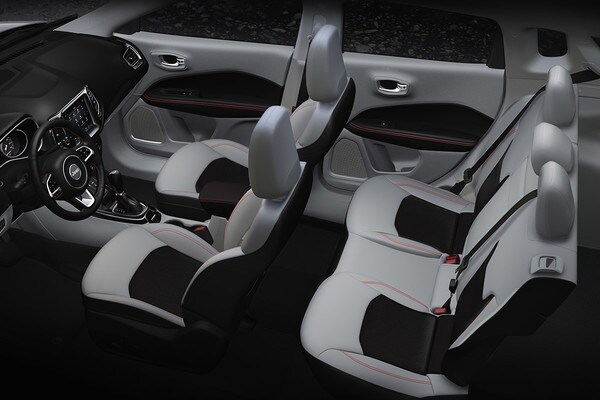 2021 Jeep Compass Exterior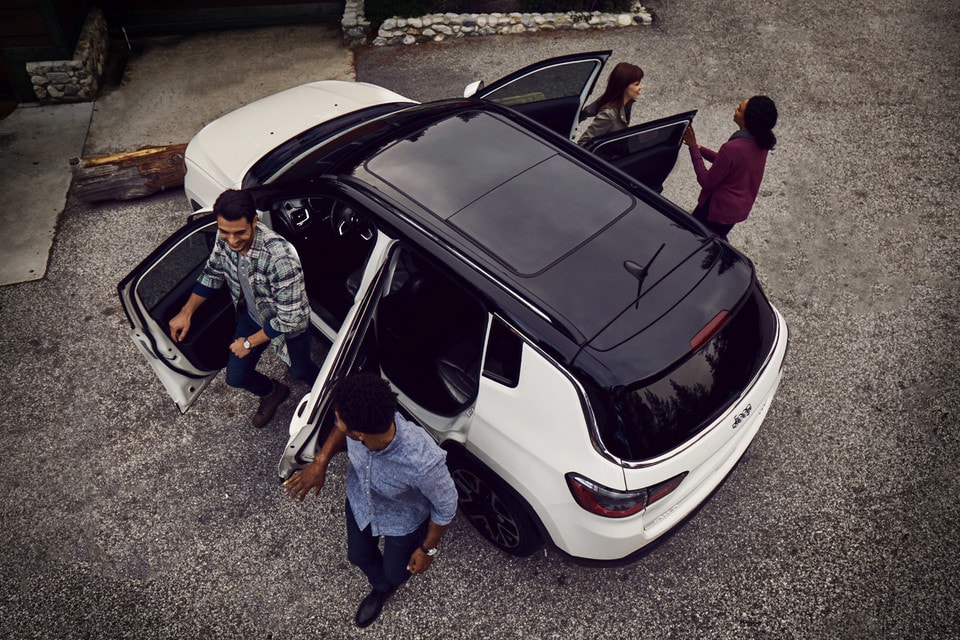 2021 Jeep Compass FAQs
Is The Jeep Compass Front-Wheel-Drive?
The Jeep Compass comes with a front-wheel-drive on the base Sport trim, but you get a four-wheel-drive drivetrain on the rest of the trim levels. Four-wheel drive is included with the Trailhawk trim level, which is specially designed for off-road adventures.
Does The Jeep Compass Come With a Sunroof?
A sunroof is standard or optional on the Compass, depending on trim level.
How To Put The Jeep Compass in Four-Wheel-Drive
To put the Jeep into four-wheel-drive, firmly grab the transfer case shifter and move the lever from 2H into 4H.
Financing Options
If you want more details on the 2021 Jeep Compass, don't hesitate to contact us today. We will happily show you the new Jeep inventory to give you as many options as possible when selecting your new Jeep Compass. You can ask us any additional questions about choosing the right Compass trim level after getting more information through our reviews. To get more details about paying for your Compass, be sure to check out our finance page and ask about payment options and applying for a loan at our finance centre. Pricing and options vary based on trim level.
2021 Jeep Compass Inventory In Summerside, Prince Edward Island