2021 Chrysler Pacifica Review For Summerside, Prince Edward Island
2021 Chrysler Pacifica AWD For Sale in Summerside, Prince Edward Island
For anyone thinking of buying a minivan, you should not think twice but go for the 2021 Chrysler Pacifica for its brilliant features compared to most burly minivans with the same price tags. It features many changes and improvements in design, hardware and for the first time, it's an all-wheel drive. This drivetrain makes it one of the most agile and elegant minivans in the market. Summerside Chrysler is the preferred Chrysler dealership in Prince Edward Island, serving those in New Glasgow, Montague and Brae.
2021 Chrysler Pacifica AWD Overview
The new inventory has five different models tailored to fit different consumers' needs. The base model comes with all standard features included, and all model options are now All-Wheel Drive (AWD) capable. This addition gives our customers the ability to drive in even the most challenging weather conditions. It has an efficient engine that provides the minivan with an unmatched fuel economy rating of 8.4L/100km. The new driving dynamics give it one of the best handling capabilities for even more safety. With an exceptionally modern design, ample sitting and cargo space, high-technology features, and an excellent safety rating, the 2021 Chrysler Pacific will appeal to most customers as the best family car on the market.
2021 Chrysler Pacifica AWD Interior Design
The interior now features a newly redesigned premium look. It has soft and comfortable leather seats which are not only heated but also ventilated. The steering wheel is now even more sturdy with a soft metal trim, giving it an excellent grip. It has simplified buttons which make navigation relatively easy. Behind the wheel are classy gauges that display all the car's necessary information. The 10.1-inch high-resolution touch infotainment screen is now five times faster than the previous generations, making it extraordinarily snappy and fun to use. The system is paired to a Harman/Kardon subwoofer, which pumps high-quality sound. Inbuilt cameras give you a complete view of the entire vehicle's interior.
A substantial bin, extra pockets, and a bottle holder on the door give you convenient storage options. The back seats are also quite comfortable; they are well set up to enable passengers to easily access the back row, have plenty of space and storage options.
2021 Chrysler Pacifica AWD Interior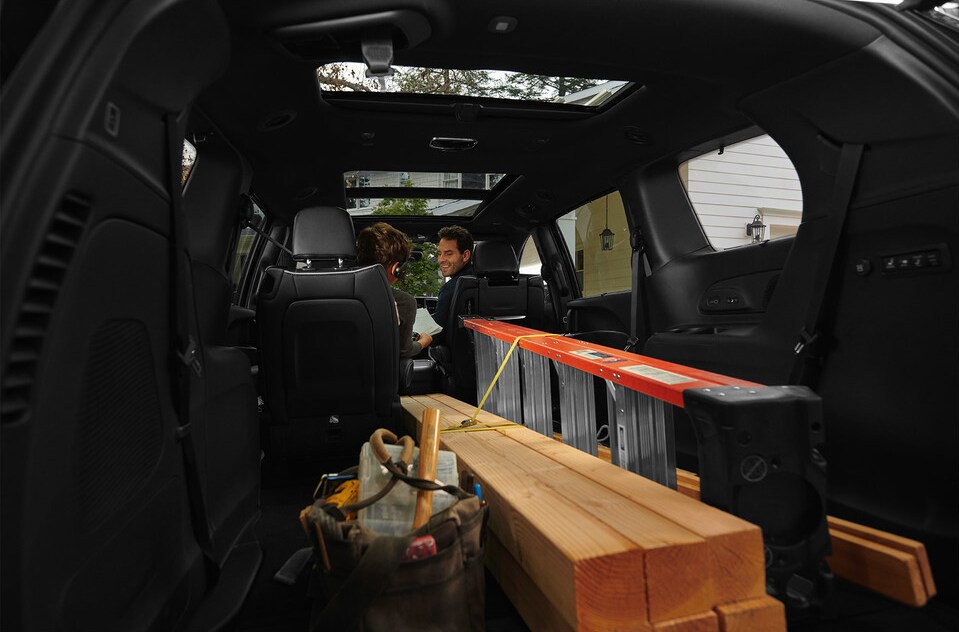 2021 Chrysler Pacifica AWD Exterior Design
As far as the looks go, it now has a new sharper front-end, lower front bumper, and a much larger grill giving it a much bolder look. The wheels are also highly customizable, with different options available to cater to all preferences. The van's backend has also been redesigned with a new broad taillight that runs edge to edge, combined with the Chrysler badge. The large doors are powered, allowing for easy entry and exit. The Chrysler Pacifica is a well-designed van that projects class, simplicity and elegance.
2021 Chrysler Pacifica AWD Exterior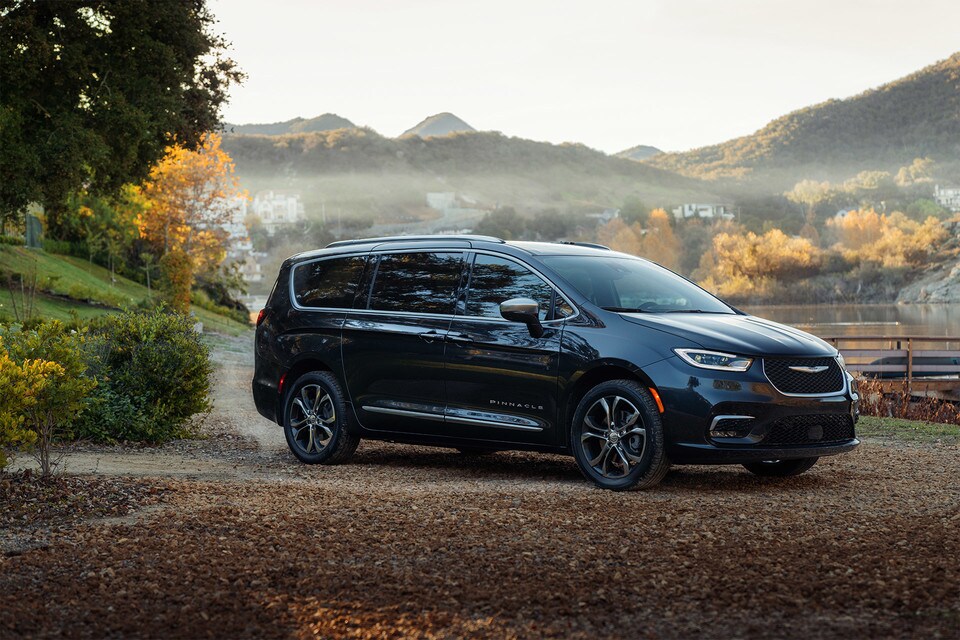 2021 Chrysler Pacifica AWD Safety Features
The new model incorporates a wide variety of safety features to keep your family safe. A whole new series of inbuilt cameras provide a 360-degree view that enables you to monitor your family at all times. It also has automated brake systems that include an improved Pedestrian Automatic Emergency Braking (PAEB) system, which can notice when pedestrians are on the road and stop automatically to prevent contact. It can also prevent collisions with other vehicles by issuing both audio and visual alerts when nearing other vehicles or even putting the car to a stop if need be. The newly improved parking assistance system quickly directs the driver into the perfect parking spot.
Chrysler Pacifica AWD Technology & Trim Options
The Chrysler Pacifica is one of the most advanced minivans on the market, with a wide variety of technology features for more efficiency and comfort. It incorporates a new charging pad that conveniently powers your phone without the need for cables. An improved navigation system that now packs new sensors makes directions even more transparent for the driver. The large 10.1-inch high-resolution display is perfect for entertainment with easy-to-use navigation. The inbuilt Uconnect system now has apps such as Wi-Fi Hotspot, Apple CarPlay, Siri, and Android Auto, which pair with your phone.
Financing Options
If interested in the 2021 Chrysler Pacifica for sale, numerous financing options are available tailored to everyone's specific situation. You can complete a financing application form, and The Summerside Chrysler Finance Centre team can help you find an option that best suits you. For more information or questions, Contact Us.
New 2021 Chrysler Pacifica Inventory For Sale In Summerside, Prince Edward Island