2021 Dodge Charger SRT Hellcat in Summerside, Prince Edward Island
2021 Dodge Charger SRT Hellcat at Summerside Chrysler
The sedan market has seen many brands and models exit over the last five years as automotive manufacturers focus on what Canadians love most, SUVs and trucks. These two segments have taken up the majority of new vehicle sales and left other segments to fight for the leftovers. There is one sedan that has not backed off from the challenge that SUVs and trucks present, and that is none other than the 2021 Dodge Charger SRT Hellcat. This vehicle offers features and performance that is hard to find anywhere else. Car and Driver stated in its Hellcat review, "The 2021 Dodge Charger SRT Hellcat should probably come with a swear jar because both its appearance and acceleration are best described with expletives." Even though it offers extreme performance and thrills, it is practical enough to take you, the family and your cargo anywhere you want to go. The Charger Hellcat horsepower will have you wondering, is this too much? The answer is always no! At Summerside Chrysler, we are proud to offer a great selection of 2021 Dodge Charger for residents of New Glasgow, Montague, Brae, and surrounding areas of Prince Edward Island, as well as the SRT Hellcat by special request. And don't forget to check out our new Dodge inventory with a slew of great SUVs, sedans, and trucks. You won't be disappointed. Get the process started by completing our online finance application and get pre-approved. Please continue reading to learn more about the 2021 Dodge Charger Hellcat specs.
Drivetrain Performance
The Hellcat line of vehicles was solely created to offer an abundance of power that you didn't think you needed. The Charger's main attraction is a 6.2-litre V-8 that churns out 717 horsepower and 650 lb-ft of torque. Now, if that is not enough, don't worry; a 797 horsepower Redeye model features an enhanced version of the Hellcat engine. The Redeye variant can rip through the quarter-mile in just 10.6 seconds at almost 208 km/h. While the SRT Hellcat is able to blast to 100 km/h in just 3.8 seconds and the quarter-mile in 11.9 seconds. This engine is paired with a quick-shifting eight-speed automatic transmission that is able to transfer this huge amount of power with ease. So if you want to take the 2021 Charger SRT Hellcat to the track on the weekend or use it as a daily driver, it would make no difference. This vehicle just wants to be drivien
2021 Dodge Charger SRT Hellcat Interior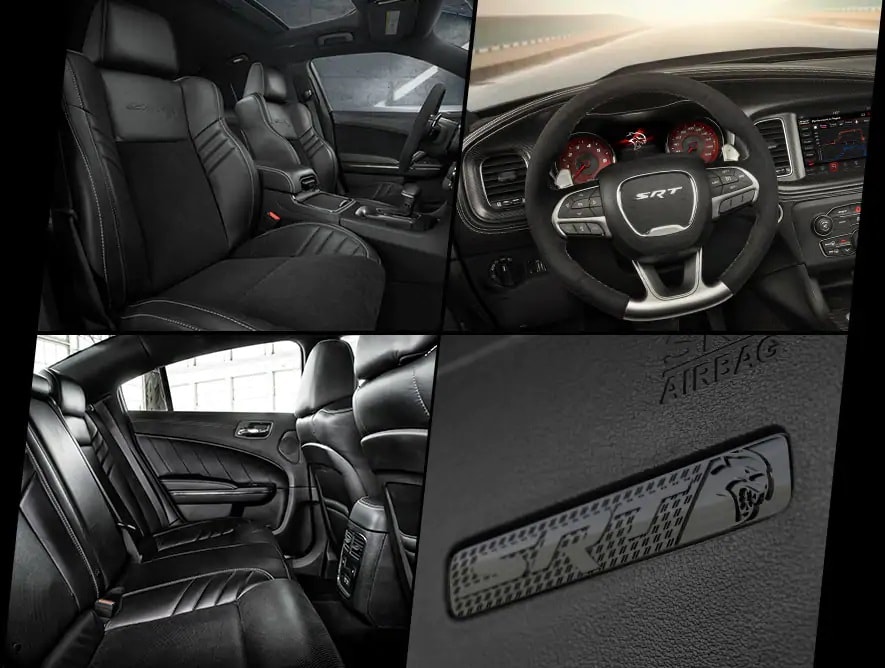 2021 Dodge Charger SRT Hellcat Exterior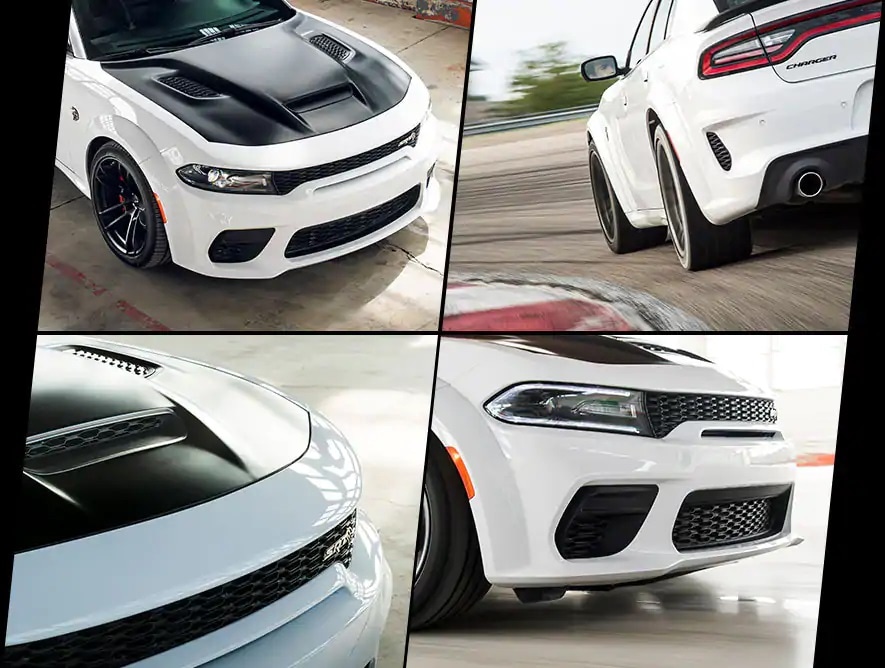 What's New for 2021
The 2021 Charger SRT Hellcats' first major change is power; it's always going to be power. This year's model offers an extra 10 horsepower while the Redeye borrows performance parts from the limited-production Dodge Challenger SRT Demon. A couple of trim changes and colour options round out the major changes to the vehicle.
2021 Dodge Charger SRT Hellcat Interior
Take a step inside the SRT Hellcat, and you will find some similarities between the lesser tamed sibling. It has a slew of desirable standard features and others that are customizable. In the front, you will experience heated and ventilated seats with leather all around and a unique 320 km/h speedometer. There are subtle Carbon and Suede trims throughout the interior and a faux-suede headliner for a sportier atmosphere. The Charger's rear cargo space is more than you'll need, pack in all your stuff for a weekend away with the family.
Infotainment and Technology
Like every other Charger, the SRT Hellcat receives an 8.4-inch touchscreen with Apple CarPlay and Andriod Auto. The infotainment system is considered one of the best in the industry because of its quick and smooth responsive characteristics. If you're ready to rock out to your favourite jam, a 19-speaker Harmon Kardon stereo system has you covered.
Safety and Driver-Assistance Features
The 2021 Dodge Charger SRT Hellcat features some fantastic safety features that are sure to keep you, your passengers and other vehicles safe. Driver assistance technologies that include blind-spot warning, rear cross-traffic alert, and rear parking sensors.
At Summerside Chrysler, our main objective is your satisfaction. That's why our customer-first approach has allowed us to provide the best customer service experience in all of Prince Edward Island and surround areas. We take pride in offering you the best lineup of new vehicles, and don't forget about our used vehicle inventory. If you have any questions please don't hesitate to contact us for more information.
Make an Inquiry