2021 Jeep Grand Cherokee For Sale In Summerside, PEI
2021 Jeep Grand Cherokee For Sale In Summerside, Prince Edward Island
The 2021 Jeep Grand Cherokee is available at Summerside Chrysler in Summerside, PEI. Looking for a comprehensive and high-performing midsize SUV from brands like Jeep, Chrysler, and Dodge? Summer Chrysler has got you well-covered. It stands out as the most preferred dealership in Summerside, Prince Edward Island. Serving the surrounding areas of New Glasgow, Montague, and Brae, you can rest assured to find your desired SUV with ultimate ease.
2021 Jeep Grand Cherokee Overview
Of all the many SUVs Jeep offers, the Grand Cherokee is incredibly special in its style. It is designed to blend Jeep's road ethos with superb refinement and luxury, standing out from the rest of the models. The 2021 model features an all-new 2021 Jeep Grand Cherokee L model with three rows of seats built on a new power-driven platform. Therefore, it is one of the most popular and diverse lineups of midsize SUVs you can find around.
2021 Jeep Grand Cherokee Interior Comfort
Depending on the SUV model, stepping into this extra-ordinary cabin gives you a sense of either luxury or ruggedness. The designers used soft-to-touch materials and leather for the armrests, dashboard, and upper door panels for the older two-row model. With this new model, its super modern interior design and materials tend to be a cut above. Besides that, the Jeep Grand Cherokee interior features plenty of space with ample headroom and legroom in its four prominent seating positions. Additionally, it gives a good driving position that guarantees maximum comfort for long drives. The excellent seating position for the driver ensures perfect visibility of the road ahead. You will also find it with relatively intuitive controls that guarantee a remarkable driving experience. Although the Grand Cherokee has a high seating position, all other things are within the driver's reach.
2021 Jeep Grand Cherokee Interior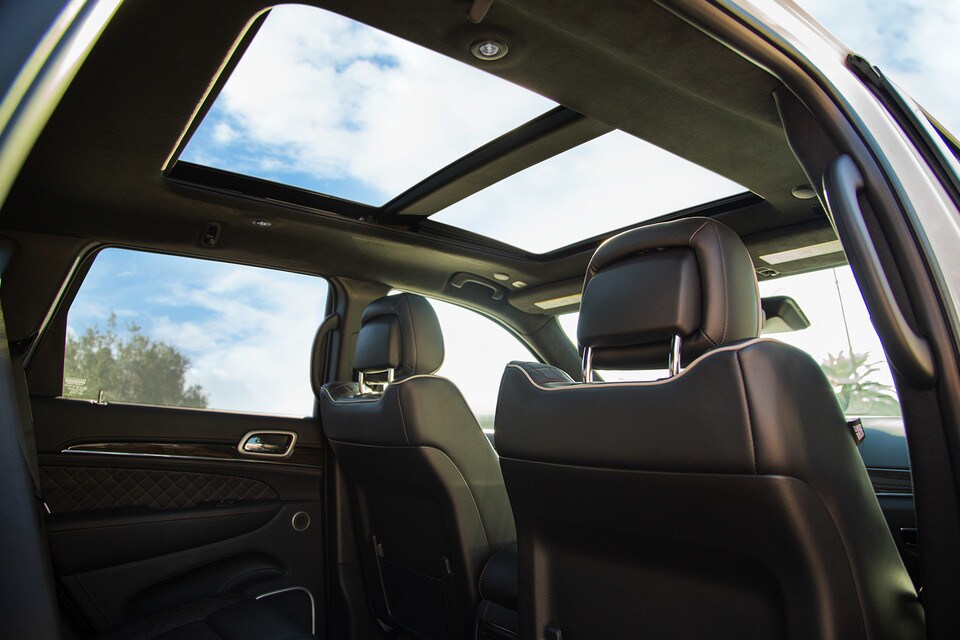 2021 Jeep Grand Cherokee  Off-Road Capability
The 2021 Jeep Grand Cherokee usually comes with a standard V6 engine. Even though it may be fascinating, you can opt for one with V8, which you will find only on limited trims. This base engine gives remarkable power enough to pull with great strength. Regardless of the configuration, the Grand Cherokee has an excellent towing capacity of about 6200 pounds for the V6 models.

With readily available multiple off-road options, this midsize SUV works well off-road. To add to that, it is tail-rated and provides sufficient ground clearance to enable you to drive even on rough terrain with utmost confidence and comfort. The Selec-Terrain traction management system further enhances the Grand Cherokee's off-road capability by directing power to the appropriate wheels maximizing traction.
2021 Jeep Grand Cherokee Exterior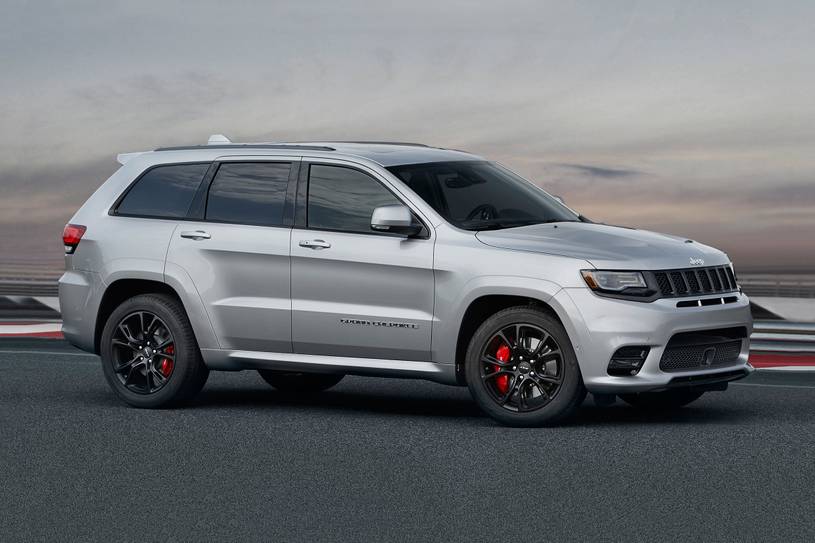 Why Choose A Jeep Grand Cherokee?
The 2021 Jeep Grand Cherokee is a remarkably luxurious and powerful modern SUV, with the capability to go off-roading. Thanks to its exceptional interior comfort, you and your loved ones will always enjoy riding in this Grand Cherokee. Moreover, you will find its wide-opening doors and generally spacious design to be comfortable and accessible. The silent whisper cabin ensures the driver and passengers get a super relaxing atmosphere. Therefore, you will most likely enjoy taking the Grand Cherokee on all your road trips and everyday tasks. With a cargo space of about 36 cubic feet, you can be sure to carry your groceries and other luggage with confidence.
2021 Jeep Grand Cherokee Trim Levels
The Jeep Grand Cherokee is currently in its fifth generation, being availed with a three-row L model. These models include Grand Cherokee L Laredo, Grand Cherokee L Limited, Grand Cherokee L Overland and Grand Cherokee L Summit.
Get Financed by Summerside Dealership
Summerside Chrysler is an exclusive dealership in Prince Edward Island preferred for all automotive needs. Whether you want to buy a brand new Jeep, Dodge, Chrysler, or Ram model from our new Jeep inventory or used inventory, you can depend on our professional team on our finance page. By doing so, you can confidently secure a suitable payment plan for your new vehicle, depending on your budget. Be sure to contact us or visit our financing page to apply for credit to get your new car.
Reach Out For More Information
There are plenty of reasons why the Grand Cherokee should be a must-have for anyone looking for a modern midsize SUV. It is super versatile, and therefore you and your family will enjoy driving in. besides, it boasts a quality, luxurious, and comfortable design that suits your desires. Be sure to contact us for more information on the 2021 Jeep Grand Cherokee for sale.
2021 Jeep Grand Cherokee Inventory in Summerside, Prince Edward Island